Be Transformed By The Renewing Of Your Mind
"How To Hide The Word of The Most High In Your Heart,
So That You Might Not Sin Against Him"
Psalm 119:11
"How To Walk In The Spirit So That
You Won't Fulfill The Lust of The Mind"
"How To Keep Torah From The Heart"
Now You Can Use My Brand New Scripture Audio Learning Technology (SALT)® To Quickly & Easily Hide The Word of The Most High In Your Mind, Heart, Body, Soul & Spirit!
"Start Living A Sin Free Life As You Walk In The Spirit
By Keeping The Word of The Most High From The Heart"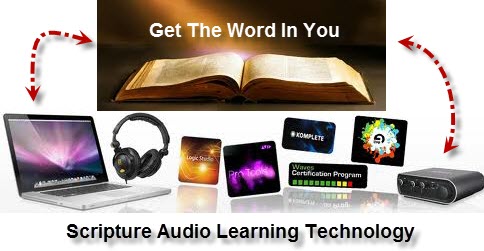 "Get The Word In You" ® utilizes technology (Vision Movies, Smart Cell-Phones, MP3 Audio Players, Music Technology, High Speed Audio Recordings, Dual Audio Recording, Binary Audio Recording, Whisper Audio Recording, and CD players) to renew your mind for change. The purpose is to create consuming thoughts of YAH all day and all night by allowing you to control what you see, hear, speak, and feel on purpose as it relates to hiding The Word of YAH in your heart.
---
There is a whole lot more to ""Get The Word In You". REGISTRATION is required to truly unlock the potential of this program as you completely consume yourself with The Word of The Most High.

Free Registration